Weekly Zen: Getting a good s-t-r-e-t-c-h
Being a massage therapist, I have a pretty good understanding of the human body and how it works. Because of this, I am aware of the benefits of good body mechanics. Body mechanics is described as the way the body moves throughout the day. This can include sitting, standing, bending, pushing, pulling, etc. Not having proper body mechanics can result in back aches, wear and tear on the joints and many other ailments that seem to plague us every now and then.
One thing that can help us achieve proper body mechanics by improving posture is stretching. One practice that I often encourage clients (and sometimes family and friends) to do is stretch. It's great for helping you relax your muscles, prevents injury, great for sports and many other things. But what makes stretching today's
Weekly Zen
is that it helps relax your mind. Being mindful of your stretches and making it a part of your daily routine promotes a feeling of well-being.
So let's get those feel good hormones rushing with these 5 Stretches from
POPSUGAR
:
1)
The Upward Stretch
This is a great way to wake up the body and get your blood flowing. Raise your arms towards the sky and interlock your fingers, palms facing upward. Push up with your entire body and feel the stretch in your ribs and arms. Hold and count to 10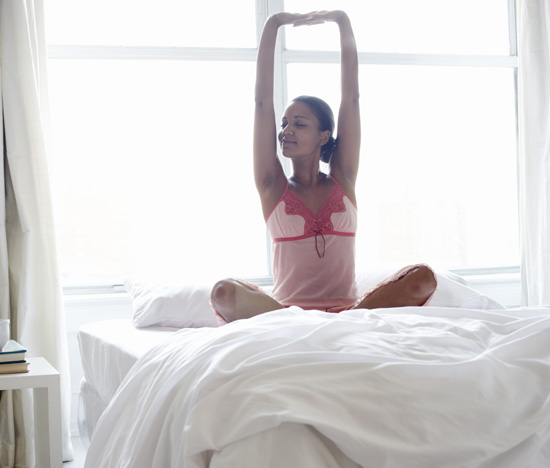 2) Neck and Shoulder Stretch
Doing these can ease tension that can happen while you sleep. Bend your neck to one side so that your right ear touches your right shoulder. Hold for a several seconds. Repeat with the opposite side. Bring your head back to the middle and relax for a minute. Then roll your shoulders to the back, then to the front. Repeat the entire sequence a few times.
3) Reclining Spinal Twist
This is a great way to relieve stress in your lower back. Lie on your back, then lift your leg and swing it over to the opposite side. Extend you arms out into a T position while straightening your torso. Hold for a few minutes then switch sides. Don't be afraid if you hear some cracks, but, also remember not to force anything. If it is too uncomfortable, bring your leg back in a little until it feels comfortable for you.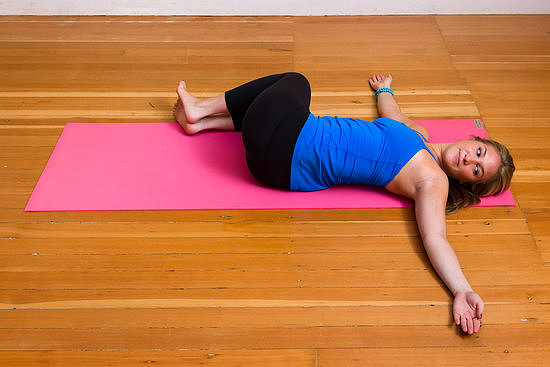 4) Quad Stretch
This is another stretch you can do laying down. Start by laying on one side and bend your knee. Grab your foot with your free hand and pull towards your butt. Hold for a few seconds then release and repeat on the opposite side. Quads are one of the body's larger muscles that easily gets overworked, so make sure you stretch them everyday.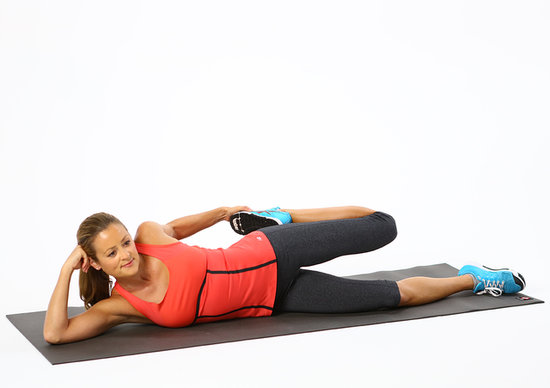 5) Hamstring Stretch
The hamstring stretch is probably one of my favorites. It just feels so good. Get yourself in a sitting position. and stretch out your legs. Bend one leg and bring the foot in close to you. With the other leg out-stretched lean over gently without bending the knee until you feel the stretch. Hold for a few seconds and switch legs. Make sure to keep your back straight the whole time.
Another variation of this is to stretch out both legs together in front of you. Fold over your torso and reach for your feet. Go as far as you can without straining. Hold for a few seconds, then release.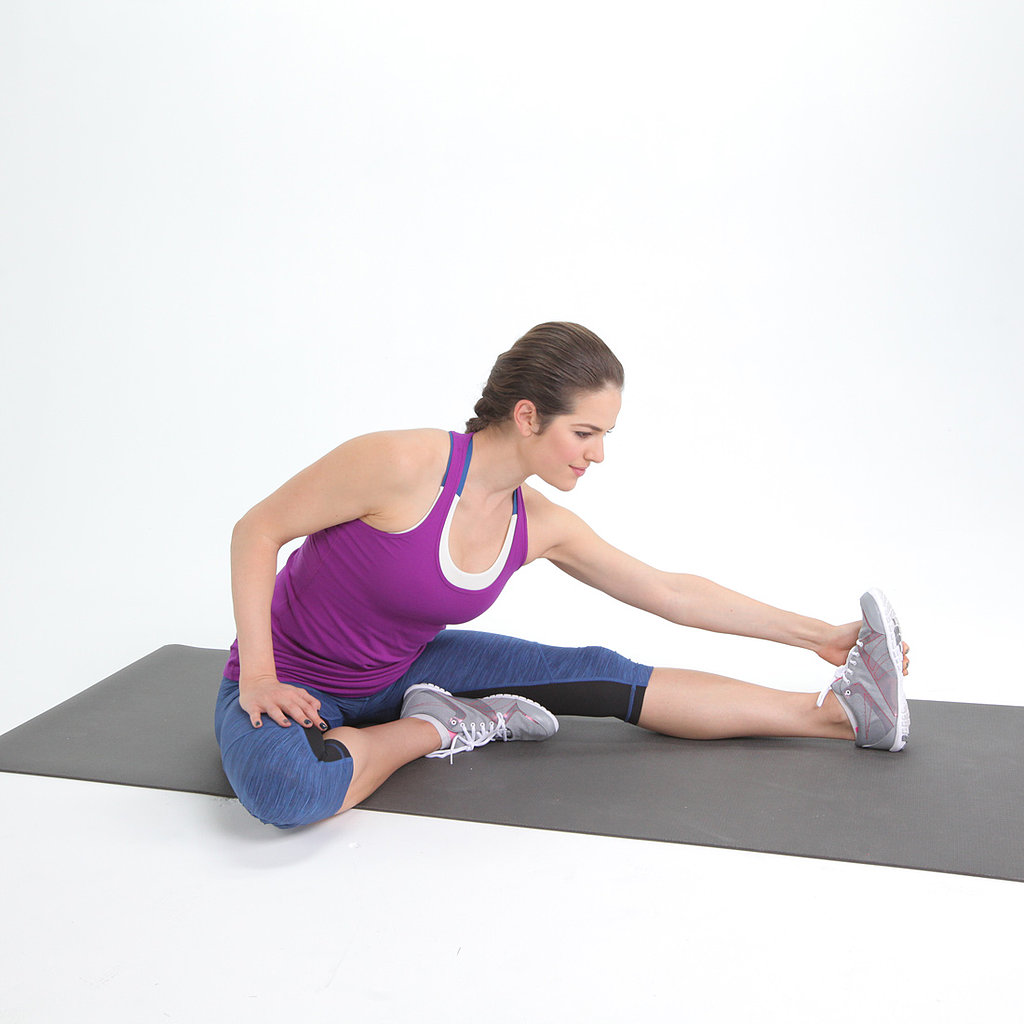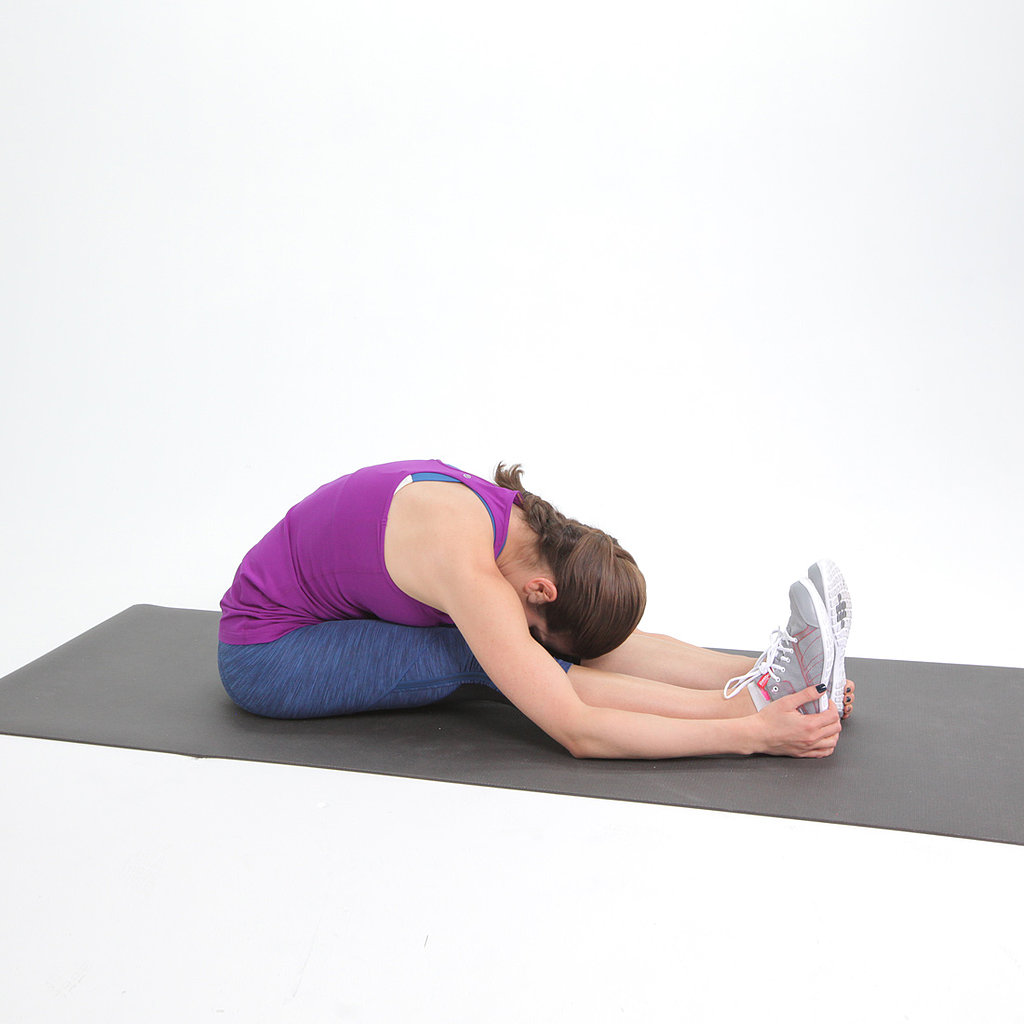 Always remember to breath through all your stretches. Never force your body to go further than it can. You may not be able to stretch as far as you thought you could at first, but the more you stretch, the more flexible you will be and the better your circulation will become. So stick to it. Your body (and partner) will thank you.