Coconut and Dark Chocolate Oatmeal Bar
Ok, so I told you before that I would give you this recipe. This was one of my guilty pleasures mentioned on my previous post
What's Your Guilty Pleasure?
Be warned, this has been known to be the cause of some serious addictions. I present to you my...drumroll please...
COCONUT AND DARK CHOCOLATE OATMEAL BAR
Yes, I know. The name is kind of long. But you can change it when you make yours :-).
I love this bar because it is sweet, but not too sweet. Chewy. Coconutty (not even sure if that is a word, so don't bother checking your dictionary). Contains dark chocolate, which I absolutely love. And, above all else, it is healthy (well, somewhat). It contains some super foods like the antioxidant rich dark chocolate and the extremely healthy fat that is Coconut Oil. Not to mention that the main ingredient is oatmeal, which is a healthy grain right? See, so it is not totally bad for you. So just relax, and enjoy one of my
guilty pleasures
.
Ok, so here is how you make these. You are going to need:
1 cup of Quick Cooking Oats
1/4 cup of Light Brown Sugar (not packed)
A little less than 1/4 cup of Agave Nectar (if you don't have, you can substitute with granulated sugar or any other liquid sweetener you may have on hand)
1/3 cup of Dark Chocolate Chips (this amount can vary depending on how thick you want that chocolate layer to be)
1 tablespoon peanut butter (optional)
Coconut Flakes (optional)
Directions:
Preheat oven to 350 degrees.
In a bowl, mix oatmeal, coconut oil, brown sugar and agave nectar until all ingredients are evenly distributed.
All ingredients in
Mixed thoroughly
Once you have that ready, line a bread loaf pan with parchment paper. This will help it come out nice and easy. Next, you want to pour the mixture into the pan and spread evenly while pressing down.
Bake in the oven for 12-15 minutes. Any longer and it will lose it's chewy texture.
In a glass bowl, melt the chocolate until smooth. Careful not to burn. What I usually do is place it in the microwave for 30 seconds at a time and mix in between heatings. If you don't like to use the microwave, then by all means, the double boiler method can be used as well. It will just take a little longer.
*If you are a peanut butter fan, you can add some to the chocolate and melt. I like to leave mine just the way it is.*
Once your chocolate is nice and smooth, pour it over the oatmeal mixture and spread evenly.
*This is where you can add some coconut flakes to the top. In case you are crazy for coconut and have to have more of it*
Once you are done, let the pan sit somewhere cool. When it reaches room temperature, place it in the fridge until the chocolate hardens. Once the bar is cooled completely, you can pull the parchment paper up and the entire bar will come out. Cut the bar into little rectangles. I usually get about 16 per pan.
This is the finished product. I tried to get creative with my photo shoot. But you get the picture.
I like to enjoy these when I am alone (so my kids won't ask for any. I know, i'm horrible). The chewyness of the oatmeal mixed with the richness of the chocolate with a hint of coconut is so satisfying. I can't stop at just one little piece.
I hope you enjoy these as much as I do. Tell me what you think.
In Helping Others...We Help Ourselves
This past Saturday I had the opportunity to attend a couponing class hosted by my cousin, Francesca. The FREE class was sponsored by the
Simple Truth Foundation
, whose focus is to teach families the value of simple savings. These savings not only help you balance your family budget more effectively, but it also increases food pantry awareness. Their motto is "In Helping others, you help yourself".
During this class, our instructor, "Fran the Coupon Man" (who is one of the nicest men I have ever met), answered any questions we had on couponing and gave some extremely helpful tips on how to get started. I have got to say that the entire couponing process seems far less intimidating thanks to Fran. He made it easy to understand and totally doable for all those that already had this idea in their head about how daunting the whole couponing process can be. One very important lesson that I grabbed from the entire class was that I had the ability to help others with MY couponing efforts. Which goes back to their motto
Courtesy of the Simple Truth Foundation
For example, if there is a great deal on an item you have coupon for, but do not need the item, get it anyway. Now you may think to yourself. Why would I get something I don't need. But think about it. Just because you may not need it, doesn't mean that you can't get it to help out someone else. Give the item to someone in need. Donate to a church or charity. The whole idea is to give back. If we all embraced this way of thinking, there would be far less people/families that are suffering because of financial struggles.
One of the online resources that was introduced to us was
Couponers United
. If you live in the Central Florida area, they offer free classes. I suggest you sign up. On Couponers United you can learn more about its founder Mary. She has accomplished some great things and dedicates her time to helping others benefit from couponing the way she did. So go ahead and check out her site, follow her on twitter/facebook/google+. I am sure you will not regret it. Here is the site:
www.couponersunited.com
Now, like I mentioned before, couponing goes hand in hand with the Simple Truth Foundation's mission in helping others. So make sure you contact a foodbank to donate your extra items gained from all the sales. They will make sure that it reaches a family that need them the most. They also sell a guide that can help you get started with the whole couponing process and contains a lot of great resources for you to utilize.
Image courtesy of Simpletruthfoundation.org
Here are those sites again to help you get started:
Now that you have the information you need to help you get started, let me tell you about the evening itself. The class was a huge success. It was a full house. The food was plentiful and the raffle prizes were great. My cousin did a wonderful job putting this even together. But, then again, I couldn't expect any less. She always goes above and beyond. So thank you Francesca (who has already saved a ton with her couponing efforts) for putting it all together. Check out some pictures of the event below:
Fran the Coupon Man
Jocy and I enjoying the food
My cousin Francesca (in blue), Her mom Vicky, Fran and me
Raffle prizes purchased through couponing
Some of the food options available
Beautiful dessert display
Have you couponed yet?
Take me as I am
I am short and have curly hair.
I am clumsy, and sometimes insecure.
I am nurturing and loving and can be emotional.
To love me is to take the good along with the bad.
These qualities are what make me who I am.
I am affectionate and love to laugh.
I am not perfect, but I love with every fiber of my being.
And that is what makes it all worth it.
Why I love Charmin's Ultra Soft toilet paper
Recently I received samples from Charmin® of their Ultra Soft Mega Roll. Right off the bat I was impressed that they sent me a 4 pack, not just one single roll. I have got to say, Charmin's has got it right with this one.
At first, I thought this roll of paper was going to be like the quilted brands that claim to be soft, but really tore easily. But what I didn't expect was a high quality, soft as cotton toilet paper. That is exactly what I got with Charmin® Ultra Soft Mega Roll. The sheets in this roll were very durable and soft. Surprisingly, the first thing that came to mind was the commercial of the bear family. You know how they focus on the fact that there is no fuzzy residue after wiping your bum. Well, that is actually true (sorry for the TMI moment).
My little man is going through the sniffles and we ran out of facial tissue to wipe his nose with. I used a couple of Charmin® Ultra Soft sheets and it worked great. The softness of the paper made it gentle enough to wipe a baby's face. He was not irritated at all after wiping his nose. The girls even loved how soft it was and immediately took a roll to their bathroom.
Not only was the roll soft and durable, but you were able to use less at a time because it is also very absorbent. This is great because it helps you save money. The Charmin® brand has become our preferred brand of toilet paper. In my opinion, it beats out all the rest.
One thing you never want to do is run out of toilet paper. Especially when you need it the most. Come on, you know what I'm talking about. We have all been there at least once in our lives. So go ahead and check out Charmin® Ultra Soft at
Coupons.com
and make sure you've got plenty of rolls to spare.
Disclaimer: I was given Charmin® Ultra Soft Mega Roll at no cost. All opinions expressed are my own.
Weekly Zen: Getting a good s-t-r-e-t-c-h
Being a massage therapist, I have a pretty good understanding of the human body and how it works. Because of this, I am aware of the benefits of good body mechanics. Body mechanics is described as the way the body moves throughout the day. This can include sitting, standing, bending, pushing, pulling, etc. Not having proper body mechanics can result in back aches, wear and tear on the joints and many other ailments that seem to plague us every now and then.
One thing that can help us achieve proper body mechanics by improving posture is stretching. One practice that I often encourage clients (and sometimes family and friends) to do is stretch. It's great for helping you relax your muscles, prevents injury, great for sports and many other things. But what makes stretching today's
Weekly Zen
is that it helps relax your mind. Being mindful of your stretches and making it a part of your daily routine promotes a feeling of well-being.
So let's get those feel good hormones rushing with these 5 Stretches from
POPSUGAR
:
1)
The Upward Stretch
This is a great way to wake up the body and get your blood flowing. Raise your arms towards the sky and interlock your fingers, palms facing upward. Push up with your entire body and feel the stretch in your ribs and arms. Hold and count to 10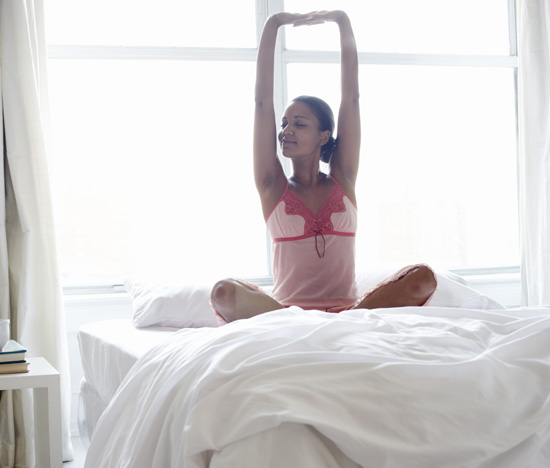 2) Neck and Shoulder Stretch
Doing these can ease tension that can happen while you sleep. Bend your neck to one side so that your right ear touches your right shoulder. Hold for a several seconds. Repeat with the opposite side. Bring your head back to the middle and relax for a minute. Then roll your shoulders to the back, then to the front. Repeat the entire sequence a few times.
3) Reclining Spinal Twist
This is a great way to relieve stress in your lower back. Lie on your back, then lift your leg and swing it over to the opposite side. Extend you arms out into a T position while straightening your torso. Hold for a few minutes then switch sides. Don't be afraid if you hear some cracks, but, also remember not to force anything. If it is too uncomfortable, bring your leg back in a little until it feels comfortable for you.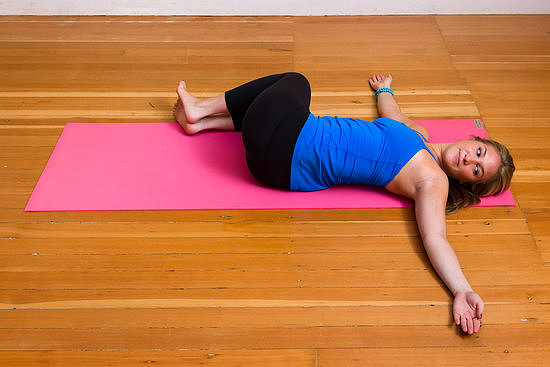 4) Quad Stretch
This is another stretch you can do laying down. Start by laying on one side and bend your knee. Grab your foot with your free hand and pull towards your butt. Hold for a few seconds then release and repeat on the opposite side. Quads are one of the body's larger muscles that easily gets overworked, so make sure you stretch them everyday.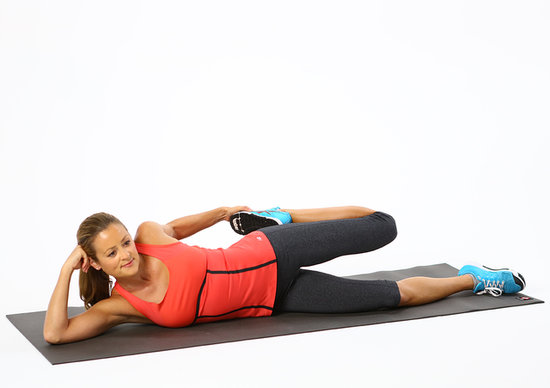 5) Hamstring Stretch
The hamstring stretch is probably one of my favorites. It just feels so good. Get yourself in a sitting position. and stretch out your legs. Bend one leg and bring the foot in close to you. With the other leg out-stretched lean over gently without bending the knee until you feel the stretch. Hold for a few seconds and switch legs. Make sure to keep your back straight the whole time.
Another variation of this is to stretch out both legs together in front of you. Fold over your torso and reach for your feet. Go as far as you can without straining. Hold for a few seconds, then release.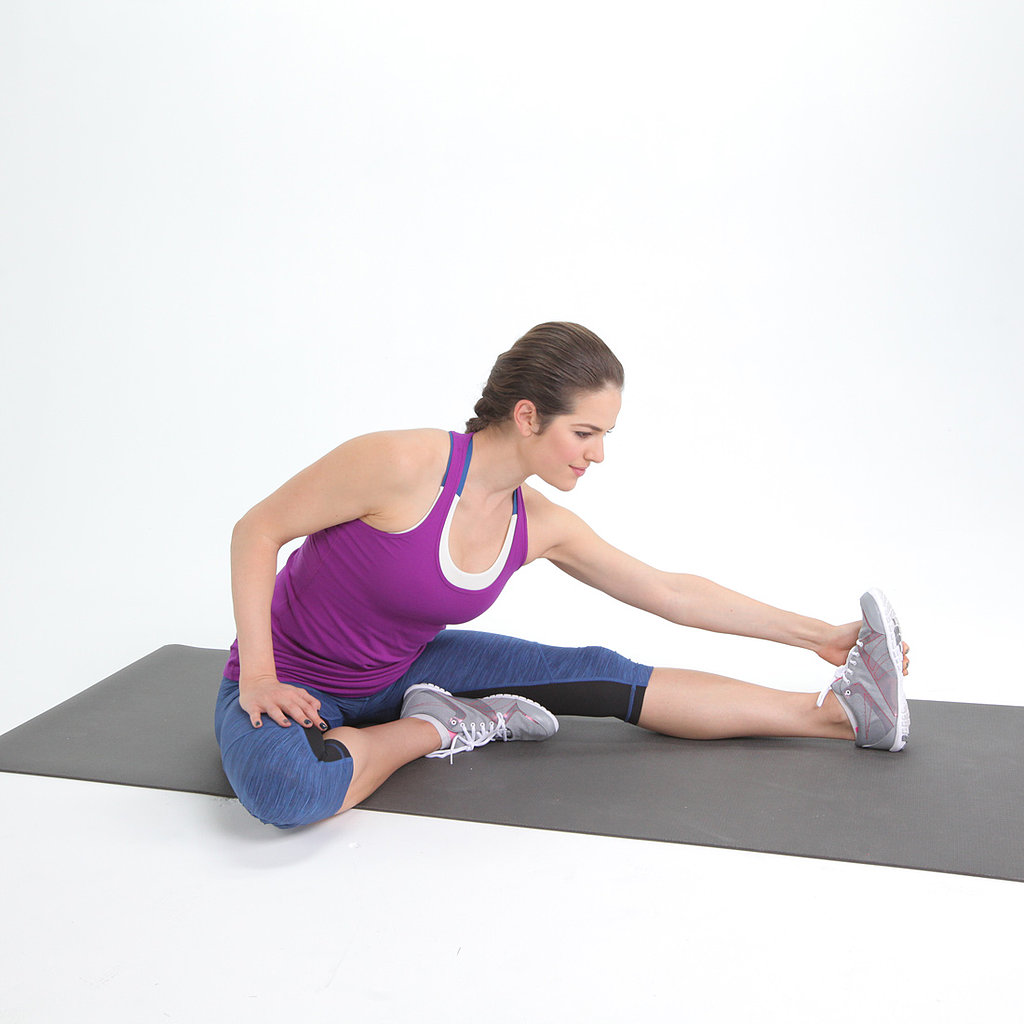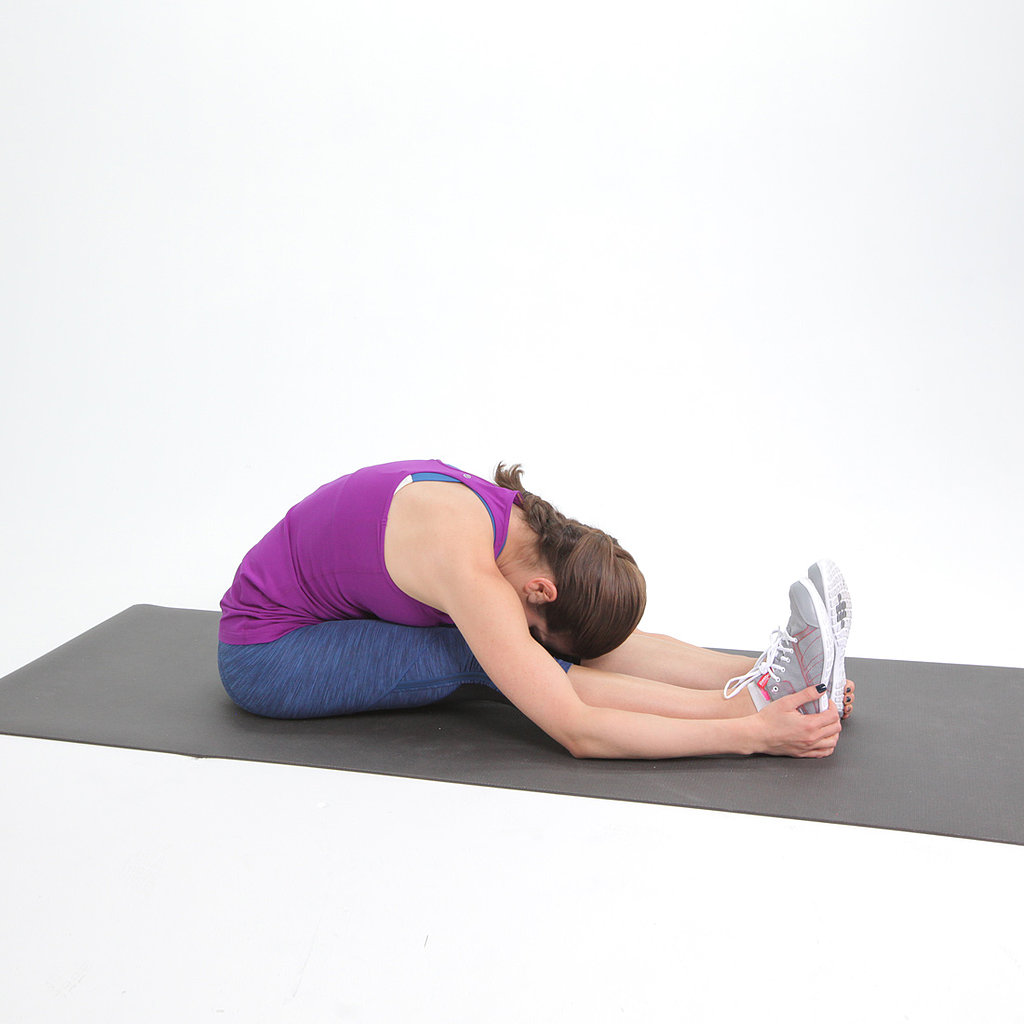 Always remember to breath through all your stretches. Never force your body to go further than it can. You may not be able to stretch as far as you thought you could at first, but the more you stretch, the more flexible you will be and the better your circulation will become. So stick to it. Your body (and partner) will thank you.
Married...With Kids
Raising children really doesn't leave much room for romance in a marriage/relationship. There will be many times when all you will wish for is some quiet/alone time. You get all caught up with homework, runny noses, dinner, laundry, etc. that you forget that nurturing the relationship you have with your husband/wife is just as important. Life becomes a routine. Not that there is anything wrong with routines. They give structure. They help you keep on track. They are predictable. But, eventually, with predictability comes boredom. That's right. Routines are great, but every now and then you need to shake things up. Its the element of surprise that keeps you intrigued. Or the anticipation of knowing that tonight will be fun, different, exciting.
Image courtesy of www.eslimaginarium.wordpress.com
As someone who has worked a full-time job and now a stay at home mom, I completely understand the importance of having a schedule, having structure, having a routine for your day to day activities/duties. It helps get things done. Or at least make you
feel
like you have it all under control (because let's face it, many of us will NEVER have it all under control). But every now and then you will find yourself daydreaming. Daydreaming of how things used to be before you got married, or before you had children. Daydreaming of a life full of romance, dancing, excitement. Please don't feel guilty for thinking or feeling this way. It is normal. Give yourself a break. Being married is not always rainbows and unicorns. Throw children into the mix and life instantly gets crazy. Yes, always know that your children are a blessing and cherish them. But don't forget that you were someones partner before parenthood became your priority. Do you ever feel like you are stuck in a routine?
It is so easy to forget, but you have to make sure that you take that time out to "date" your significant other. Make the time to get dressed up. Go somewhere you have never been to or have not gone to in a while. Take time to make each other the focus. Show your significant other that they mean the world to you and foster that connection that led you to where you are today. Remember your first kiss? The butterflies in your stomach, and your heart beating a million beats per second. It is so easy to forget those moments that, at the time, made life worth living. Some guys feel that romance is nothing more than what a guy does just to hook up. But it is so much more than that. Women are emotional beings. Some of us may be tougher than others, but when it all comes down to it, we want to feel special. We want to know that our partner still gets butterflies in their stomach when we walk in the room. Ok, I hope I am not getting too mushy. I can't help it. I am a huge sucker for romance. So when I get the opportunity, I try to tell/show my husband how much I love him. I am not the perfect wife by any means, and I will make my mistakes. Everyone does. Experience has taught me that some days will be good and some not so great. But I do want him to know that I still find him irresistible. I still think about him everyday when we are not together. I try to think of little ways to keep the spark there. Which is why we do our best to make sure we have our time a midst the everyday routines.
Image courtesy of www.nerissairving.com
Having some time to ourselves after the kids are in bed is great. We get to talk, watch our favorite shows together, or just enjoy one another. But, I love the nights that we get to go on a "date". It gives me the opportunity to dress up and put on a little makeup. We go out to get a nice fancy dinner and wing it from there. Remember that whole spontaneous thing? Yes. It is important that you keep each other on your toes. It keeps things exciting. It keeps things fun. If you are lucky enough to have someone watch the children, take that opportunity. Do not pass it up. You are showing each other that your relationship is important enough to make a priority. This also shows your children how much their parents love each other and teaches them how to be in a loving relationship. Remember, they learn how to love and be loved from you. By no means do my husband and I have this whole thing down perfectly, but we're working on it...
How do you keep that spark alive?
They Grow Up So Fast
So my little man is finally 1 year old. I know I took a while to write about it, but being that his birthday is so close to the holidays (December 20th), I kind of got caught up. But I made it, and here I am to tell you how wonderful this past year with him has been. I told myself that I would breastfeed him until he was 1 year old (sorry guys if this makes you a little squirmy). So, after many, MANY, sleepless nights, he is now completely off the boob. As I write this, I realize that it's sort of bittersweet. Since the hubby and I decided to not have anymore children, little man is THE LAST one. That means no more breastfeeding, ever, now that we are done. I mean, don't get me wrong. I am pretty excited that my body finally belongs to me again. But, I have to be honest, a part of me feels really sad. I absolutely loved having that connection with him. I loved looking into his big brown eyes while he fed. I loved singing to him and seeing his beautiful smile while he suckled (um, I hope i'm not getting too weird). I'm going to really miss playing with his tiny fingers, or running my fingers through his little curls while he nuzzled close. This is all too much. Pretty soon my little man won't be so little anymore.
Ever since his birthday, he has taken it upon himself to really start the whole walking thing. I helped him practice in the months leading to it, but it wasn't until he actually turned 1 that he really stepped up to the plate. Now he refuses to be held. He refuses to accept help from anyone because he is a (little) man that knows where he is going. And no one is going to keep him from getting there. So you can imagine how busy my days have been chasing him around the house. But I am so happy. He is developing so fast. I can't believe that it has been a year since God has blessed us with this perfect little gift. Ok, let me not get emotional. This is a joyous time in my life. So let me tell you all about his birthday.
The hubby decided that he wanted his boy to have a race car themed birthday, complete with an Audi race driver outfit. It was perfect. The color scheme was black and white checkered with red accents. The cake was wonderfully made by my uncles wife. A lot of the decorations were ordered from
orientaltrading.com
. That site is pretty much my "go-to" for all party needs.
My mother's friend was able to make these cars out of paper. I placed them on the table around the cake. They looked so real. For the kids I had little trophies with traffic sign lollipops, race car bouncy balls and checkered flags.
On the wall we had a race track full of pictures that we took of little man throughout the year. So you could see how much he has changed. The best part was that at the end of the party, the guests were able to grab their favorite photos from the wall as their parting gift. It turned out great. I am so glad everyone was able to join us. It was fun to see him grab is first bite of cake. He was too cute. We could all tell he enjoyed it.
What's Your Guilty Pleasure?
Guilty pleasures. Everybody has them, but no one wants to admit what they are. It's that movie that is so horribly bad or cheesy, but you just can't get enough of it. It's that show that is just mind numbingly ridiculous, but yet you manage to sneak episodes in while no one is watching. Its the double chocolate fudge cake that you scarf down while everyone is asleep.
Guilty pleasures are defined as something a person enjoys despite the feeling of guilt while enjoying it. The "guilt" involved is the embarrassment you feel if someone discovers your terrible taste or lack of discipline (in the case of unhealthy foods). It is something you know you really shouldn't enjoy, but just can't help yourself.
(Sighs)OK, here are five of my guilty pleasures (there's no turning back now). I promise I will keep it family friendly. This ain't that type of blog (wink, wink)
1)
Keeping Up With The Kardashians
Don't ask me why, but I am secretly obsessed with that whole family.
2)
Love and Hip Hop
Again. This is pure trash television. But week after week, I have to see what Jocelyn is going to do or say. Or catch what fight Erica Mena will be in the middle of.
3)
Mob Wives
Because, let's face it, those women are scarier than the inmates in Rikers Island.
4)
The Rocky Horror Picture Show
Now, this is all sorts of wrong. But I can't get enough of it. Last year I was finally able to see a live show during Universal Studios Halloween Horror Night's. My heart was pumping the entire time due to pure excitement.
Yes. That is a man in fishnet stockings
5)
Glee
I know, I know. But I can't get enough of Rachel's voice, or Blaine's smile, or Puck's dreamy eyes. I am absolutely crushed that this season is the final season for the show. Seriously people. I am on the verge of tears right now.
6)
My Dark Chocolate Coconut Oat Bars
(recipe to come)
When I make these, I hide them from my kids. Call me selfish if you want. But I WILL NOT be sharing these with anyone. Once I start eating a small bar, I keep going back for another. Then another. Then, ok you get the idea. Before I know, I go through half the container in about 20 minutes. Ugh, I am so weak.
Ok, I know I said I would tell you 5 and you got 6. Oh well, deal with it (and I mean that in the nicest way possible). So there you have it. I am utterly embarrassed. The list could have gone longer if I wanted it to. But I decided to spare myself the judgment. How could I ever look myself in the mirror again? But this is step 1 right? Admitting you have a problem.
But you know what? I enjoy having my little indulgences. It is what makes me happy, and my poor husband totally gets that. He loves me so much that he sat through The Rocky Horror Picture Show with me and participated as they did the Time Warp. Now that is love! The Kardashians on the other hand. Well, that is another story. He cannot even stand the sound of their voices. So I do him a favor and wait until he is asleep or in another room working so I can watch my show.
But there you have it. We all have thing that makes us quirky. We all have that thing that we are totally embarrassed to admit. But that is what makes it fun and oh so pleasurable. So what's your guilty pleasure?